Sichenia invests in the technical innovation of Breton. The main goal is to increase the productive standards that since more than 50 years are distinguishing the brand.
The investment concerns a brand new line for dry cutting and squaring of porcelain material that will be installed in the facility of Sassuolo.
Sichenia, with a strong culture and commitment towards research & development, has chosen the innovative dry squaring technology proposed by Breton named Ghibli.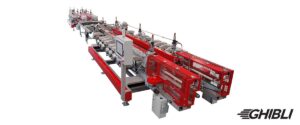 What are the main features of this new component?
High precision in squaring and rectifying tiles and slabs
Perfect alignment thanks to independent axis system
No operator needed thanks to automated laser tool measurement system
High removal capacity thanks to the high processing speed (5000 rpm)
Synchronized belts with no talcum powder nor other lubrificants needed
New architecture for squaring and rectifying tiles and slabs with up to 12 calibrating spindles
Less waste thanks to high precision process
Cleaner process thanks to high removable fine waste powder
What is a rectified tile?
The tile rectifying process is a process of grinding the edges of fired tiles to allow for butt jointed installation; thus the grout lines are barely visible granting a uniform smoothness effect.
The slabs will be perfectly identical both in size and thickness. In this way it is possible to lay the tiles with almost imperceptible joints, up to a minimum of 2mm, creating an effect of continuity, elegance and a great aesthetic impact.
For more information on the new grinding line and how it works, watch the video